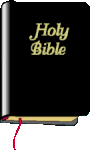 Some Interesting Bible Facts - Page 1 - Page 2 - Page 3 - Page 4 - Page 5
Jewish Calendar - Both Old and New
Hebrew - Numbers and Verbs
Hebrew - Alphabet
Youth Bible Study Lessons. . . .
Old Testament
New Testament
Bibles, Commentaries, and Dictionaries . . . .
American Standard Bible
Basic English
King James Bible
King James Bible with Strong's Dictionary and Hebrew and Greek Dictionary
Young's Bible
King James Bible - Large Print
Noah Webster Bible Version 1833
Weymouth New Testament Bible
World English Bible
How To Enjoy The Bible BY: E. W. Bullinger
Books and Studies . . .
Bible History: Bible History - The Old Testament By: Alfred Edershiem
Volume 1 - The World Before the Flood and History of the Patriarchs
Volume 2 - The Exodus and Wonderings in the Wilderness
Volume 3 - Israel in Canaan Under Joshua and The Judges
Volume 4 - Israel Under Samuel, Saul and David
Volume 5 - Birth of Solomon, To the Reign of Ahab
Volume 6 - The Reign of Ahab, To the Decline of the Two Kingdoms

Volume 7 - The Decline of the Two Kingdoms, To the Assyrian and Babylonian Captivity
Jewish Social Life - Sketches of Jewish Social Life in the Time of Christ
By: Alfred Edershiem (1876)
Letters to the Seven Churches of Asia - By: W.M. Ramsay (1904)
Numbers in Scriptures - By: E.W. Bullinger (1837-1919)
Ten Sermons on the Second Advent - By: W.M. Bullinger
The Apocalypse or "The Day of the Lord" - By E.W. Bullinger
Legends of the Jews - By: Louis Ginzberg
The Temple and Its Services - By: Alfred Edershiem
The Two Babylon's
- By: Alexander Hishop
Have you ever read some of the places in the Bible and wondered where they were located, today? - It only takes a few moments to realize there are places mentioned in the Bible that we cannot find on a map, today. Over the years, these places have changed names. You can tell how some of them have changed because they still look a little or sound a little like their ancient names. However, some of them don't look or sound anything like the original names.


Online Study Bible -- This site includes a number of useful Bible study resources, including:
Launch Study Bible Companion
Multi-translation Concordance
Nave's Topical Bible
Torrey's New Topical Textbook
Treasury of Scripture Knowledge
Easton's Bible Dictionary
Smith's Bible Dictionary
Greek & Hebrew Lexicons
Matthew Henry's Commentary
The Easton Bible Dictionary --This is the World Wide Web version of the famous Easton's 1897 Bible Dictionary. If you ever wanted to know the meaning of a word in the Bible, then this is a good place to start.
Bible Games --This is a site that offers a lot of good shareware games related to the Bible. A good spot to obtain some good learning games for the kids. It will help them learn all about the Bible
Audio Bible On Line -- This site offers the listening pleasure of the King James Bible. Narrated by Mr. Alexander Scourby. There are 78 hours of listening total at this site. You will need the plug-in Real Player in order to listen. --You have a choice of what book, chapter or verse which you would like to listen or just start from the beginning.
Bible Gateway --This site allows one to do searches of various translations of the Bible either by passages or words. Also an introduction to Ancient World cultures, including Ancient Near East and Ancient Rome. Some interesting history is found here.
Note: These Bible Studies and Books were obtained from Public Domain Sources.
Each copyrighted by their authors.